The 4.0's to record their debut album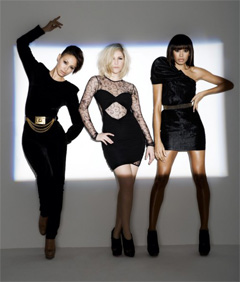 The 4.0's are already making plans for a new album. In the wake of
Sour 7
bombing in the UK like it's 1941 - the management are set to throw the girls' into the recording of a follow up. It will mark the first album to be recorded from start to finish by the 4.0's. Unless of course Amelle decides to go missing and a bitch gets kicked out again.
The Sugababes are dead. As a fan of the the group from the days of
One touch
right up to
Taller in more ways
, I could not be more disappointed in how the Sugababes name has been dragged through the dirt over these past 5 years. There is ZERO hint of the group I fell in love with. Even though Heidi's still in the group, she may as well not be - because she gets given small bit parts in songs and is like wallpaper now. She needs to just get married to Dave Berry, announce she's leaving the group, have Island drop a greatest hits from their past 4 albums (good luck finding the hits amongst them.
I sure struggled
) and just call it a day. Because the whole Sugababes situation is just embarrassing now. Plus, word is that Heidi isn't happy within the group now. And that she may possibly regret having sided with Amelle during
the whole debacle
which ended up with them telling Keisha "Bye" and having a bitch catch her P45 in the post. Heidi needs to tell me where she buys them sour grapes so I can make me some wine to sip as I sit and watch this shit unravel like Aretha Franklin's nightie straps.
I'm going to direct the girls to the autobiographical
9th track
of
their flop album
, and let them think about that shit.
Sugababes begin work on new album
@ Digital spy