The death of the Sugababes
A couple of days ago the founding member of the Sugababes was booted out. Despite reports on how Amelle had gone missing due to a group bust-up with Keisha and that she was leaving the group to be replaced by Eurovision reject Jade Ewen. It turns out Keisha was the one to be served her marching orders and be replaced.
This is not a good look at all. Say what you will about how much of a bitch Keisha was and how this is just desserts, but she was one of the members who made the Sugababes the Sugababes, and now with her gone we're left with a group who aren't really the Sugababes at all. As much as I love Heidi, even she isn't enough for me to say that with her in the band the girls are still the Sugababes.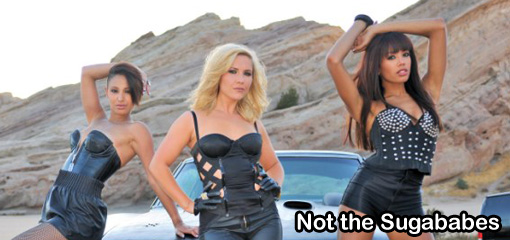 The group get hotter with girl they kick out and replace. Heidi was easier on the eye than Siobhan, Amelle was hotter eye candy than rough Mutya and Jade is a hottie. But look at the expense. A hotter looking group void of the esscence of the Sugababes altogether? It's a mess.

Nobody knows for sure what the situation is. But it's seeming to be like it was a label and management decision. Keisha posted the following message via her Twitter...


Dear Friends,

I'm sad to say that I am no longer apart [sic] of the Sugababes. I've had a great time and have achieved more then I ever thought I would. Although it was not my choice to leave, it's time to enter a new chapter in my life.

I have nothing but positive things to say about the girls and I wish them the best of luck. I would like to state that there were no arguments, bullying or anything of the sort that lead to this. Sometimes a break down in communication and lack of trust can result in many different things. I would also like to point out that I have always supported the girls and they have also supported me. Remember my drunk pictures out with Amelle, supporting her on her success with Tinchy Stryder... Oh the shame... But what a fun night we had.

Now I'm going to take some time to focus on me. I've been in this band for 11 years and I have achieved so much. I have a great family and friends who are behind me 100%, and at the age of 24, I'm now going out into this world on my own... Although im nervous, I'm still very excited on what lies ahead.

I want to thank the Sugababes fans and my fans for all your support and all who have never judged me, but excepted [sic] me for who I am. The feisty, funny, professional, fearless, motor mouth... lol

This is not the end... but the beginning!!!!

Thank you always... Keisha xxx
This was something that had to have been boiling for some time. Jade was on hand to shoot the video for "About a girl" and has already re-recorded Keisha's vocals for the new album which is due in 2 months time. This cannot have been an 11th hour decision when everything is running like clockwork concerning Jade taking a bitches spot. Rumours are abound that the management were setting to replace Keisha and having her sections be re-recorded behind her back. Sounds about right. Whatever the situation, the Sugababes 3.0 line-up should've been made to suck it up and promote out the new album first, when line-up changes taking place after the album has run its course. To make so many changes now on when a new album is on the way and a single is in the charts is ridiculous. Not to mention a complete smack in the face to Keisha. She spends all that time recording an album, writing for it and promoting it; to have this happen to her. I cannot wait to see the album credits. If Keisha's name is not up in the booklet, then I know shit is shady. Change's writing credits were mad shady. Especially considering a couple of the songs were written during

Three

and

Taller in more ways

' sessions, yet Mutya's name was not included along with Keisha and Heidi's.

I lost interest in the Sugababes after Amelle joined. Sure, she was nice to look at. But vocally, she was no Mutya. Not even close. Plus, I never truly regarded her as a Sugababe. Mutya leaving was bad enough, but for Keisha to go is just a mess. Mutya and Keisha need to be grown women and reach out to one another: become friends again first and then talk about reforming. I'd have more time for Mutya and Keisha's joint endeavours than the current empty husk of the Sugababes that exists now. Even Mutya's up for it.


I mean, it would be different if Keisha had stayed in it and someone else had gone – then it would be the Sugababes. But wow, I suppose now there's no original Sugababes we should just all reform again.
I will still check for their new album. But I'll have mixed and jaded (pun not intended) feelings about it. Listening to whole

Sweet 7

album knowing that Keisha's vocals were a part of it only a couple of months ago will feel weird. Keisha is still signed to Island records, which means she'll be able to continue on as a solo artist and she's a talented song writer to boot. So best of luck to her.



_____________________________________________________________________________________





Tags:

Amelle Berrabah

,

Heidi Range

,

Jade Ewen

,

Keisha Buchanan

,

Sugababes